Start your outsourcing journey today with India Rep Co. Build a dedicated back office team and enjoy dramatic cost-savings.
Let us manage your back office tasks while you focus on business growth. We are one of India's leading BPO / KPO for outsourcing back office support services. 
Supercharge your Business with Remote Staff from India
We help you cut costs and enhance productivity by outsourcing non-core business processes to India. With outsourced teams you can scale your organization quickly, easily and cost effectively.


Our reps can perform many types of tasks, including: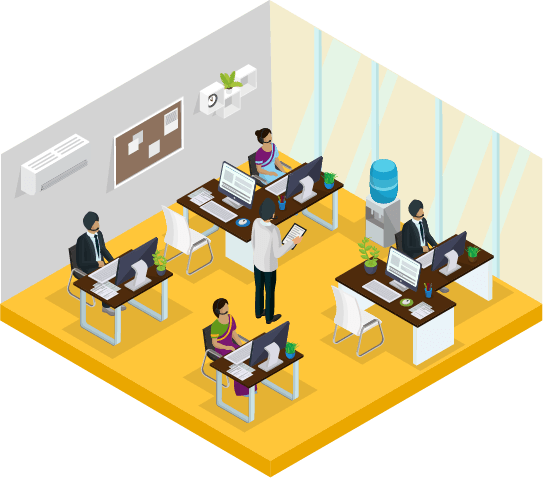 Outsourcing Reduces Cost
The biggest benefit of outsourcing has always been cost-savings. Partner with us to build an offshore back-office team to drastically reduce your costs.
Focus on Business Growth
Outsource non-core tasks which unnecessarily keeps your management busy. Do the stuff which matters most and leave the rest to us.

Scale Up or Down with Ease
Easily scale the size and composition of your remote team to suit your immediate business requirement.
Increase in Productivity
With an offshore team in India you are able to operate your business around the clock. Our offices never close and are open 24/7.

Access to Top Talent
Building a remote team in India means you have more access to talent that was not available back home, usually at a fraction of the cost.
Reduced Risks & Legal Liability
Outsource your staffing requirements to reduce your liability and risks associated with hiring in-house employees.
You provide us the task description and we get back to you with a proposal​
We deploy suitably skilled staff to you project under a Project Manager

You provide adequate training to the Project Manager who further trains the team
Your Project Manager is in charge of the team's performance and reports to you daily

You are billed monthly based on agreed cost terms in your local currency
You can easily exit the contract at any time by providing a 30-day notice
We work with some amazing companies
from all over the world.

Don't just take our word for it
"Our partnership with them is profitable. The team is both professional, willing to succeed and easy to communicate with."
"Udit and his team helped us with all our data entry needs, which allowed us to focus on everything else we had on our plate. They were a breeze to work with, and very attentive to all our requests. Overall great business!"
"We've been able to outsource a rather repetitive but fundamental task of our business. Thanks to the work of India Rep Co. we'll be able to constantly improve quality of this core data asset. We appreciate the team's flexibility, constant communication, willingness to solve problems."
"We have worked with India Representation in many different projects, which required different technical skills. The team has always delivered excellent and timely results, and management is great at communicating progress and timing of the tasks. Their work has really helped us in many projects, and always stood to the best quality standards."
"India Representation Company has been a reliable partner in finding talented individuals for hard-to-fill roles. They are responsive, adaptable, and easy to work with."
"We approached India Rep Co. when we had the need to run a series of market research activities to help us gain a better understanding of the Indian market for our product launch. We are very happy with the work done by India Rep Co. and we think they can be a useful partner to help gauge an understanding of consumers and market trends in India."
In today's fast-paced and highly competitive business landscape, informed decision-making is the key to success. To make effective decisions, businesses rely on a combination of
Read More »